This award celebrates one of the industry's oldest and most iconic communication channels and recognises the creativity, innovation and talent of visual merchandising teams.
The criteria for this award includes: concept and idea, complexity, artistic component and originality/ zeitgeist; quality of execution; impact on sales and footfall, as well as media coverage.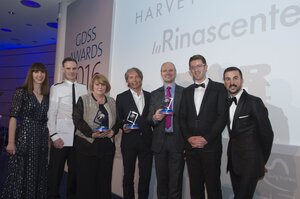 Winner: Harvey Nichols (UK)
Finalists: Rinascente (Italy) and Myer (Australia)
Harvey Nichols won the biennial Summit's first Window Campaign at a Department Store award for its 'Avoid Gift Face' campaign. The company was represented by Janet Wardley, Head of Visual of Harvey Nichols. Award finalists Myer (Australia), represented by CEO Richard Umbers, and La Rinascente (Italy), represented by CEO Roberto Baldan, received trophies for their respective campaigns 'Little Dog & The Christmas Wish' and 'Edible Monsters'.