The award was created to foster greater corporate social responsibility leadership among department stores and reward best-in-class practices.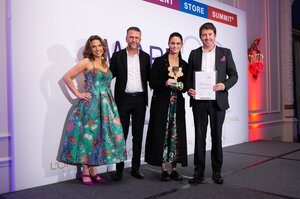 Winner: Paris Department Stores (Chile)
Finalists: Selfridges & Co (UK) and Woolworths (South Africa)
The winner of this year's award is Paris Department Stores for their Toys for Toys campaign that aims to create awareness about reuse and recycling. This campaign is centered around bringing unused toys back into the economic cycle through repair, donation and/or recycling. Launched for the first time in 2019 on Children's Day in Chile, it has been recreated every year since to bring a smile on the faces of at-risk children. In 2021, about 30,163 toys were donated to children and this was the fourth on-going year of this campaign.
Ricardo Bennett and Maria Fernanda Kluever, CEO and Head of CSR of Paris Department Stores in Chile respectively, received their trophy from Tamim El Mili, Director General of L'Oréal Luxe and representative of the Jury, during the Official Dinner of the Global Department Store Summit, on 9 June 2022 in Seattle. Two runner-up campaigns that stood out were also recognized during the evening: Project Earth from Selfridges & Co in the UK, represented by Andrew Keith, Managing Director and Zero Hunger from Woolworths in South Africa, represented by Roy Bagattini, Group CEO.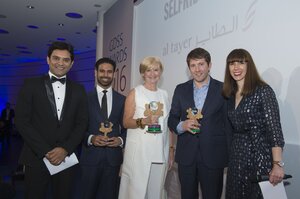 Winner: Selfridges (UK)
Finalists: Paris Department Stores (Chile) and Al Tayer Retail (UAE)
Selfridges won the Summit's first sustainability award for its 'Buying Better, Inspiring Change' campaign. Managing Director Anne Pitcher received the Award from Manish Mandhana, CEO of Mandhana Industries. "Sustainability is no longer a bolt-on or a nice-to-have, it is integral to the success of any business. Over the last five years, we have deepened our understanding and commitment to sustainability, which has become increasingly aligned with our business strategy and is now a core part of both what we do, and how we do it", said Anne Pitcher. Finalists of the category were represented by their CEOs: Ricardo Bennett, for Paris Department (Chile), and Khalid Al Tayer, CEO Retail of Al Tayer Retail (UAE), for their campaigns 'Ropa por Ropa' ('Clothing for Clothing') and 'I am Different Just like You'.